We want to buy your vehicle even if you don't 
buy one of ours!!  
Paid for or Not!  No Trade-In Required!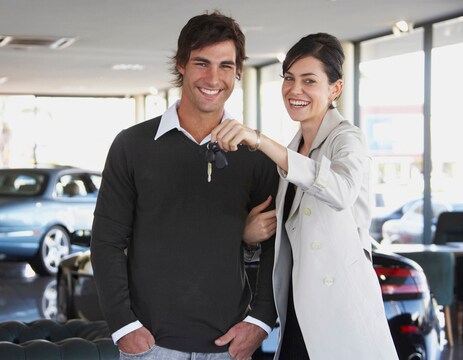 It's as easy as 1-2-3-4-5!!!!!
We want to buy your vehicle; any year, make or model.
Due to our high volume of used vehicle sales we believe we are able to offer you more money for your used vehicle than other dealerships or even private parties.
We can save you time, money and the aggravation of reconditioning, smog certification and advertising your vehicle for sale.  Not to mention the uncertainty associated with who you're dealing with, collecting the money, paying off a lien holder and title transfer paper work.  We do all the paperwork and hand you a check.
Please call 877-330-6387 to set an appointment for your appraisal:
Monday - Saturday: 10:00am - 5:00pm
(Checks are issued Monday - Friday only.)
Things to bring when you sell your car to Orange Coast Chrysler/Jeep/Dodge:
1. Current California Title
Please bring your California Title with you.  The Title must be provided at the time of sale.
If you paid off a previous loan on the vehicle but the Title still shows a lien holder you will need both the Title and Lien Release from the bank before Orange Coast Chrysler/Jeep/Dodge can purchase your car.
Have an outstanding loan?
If there is a lien on the car, we will need to contact your lien holder during business hours to get a fifteen-day payoff. To get the payoff, we will need:
    * Your lien holder's name and phone number
    * The name(s) on the account
    * The account holder's account and social security numbers
Will all registered owners be present?
Only one registered owner need be present if the title shows only one registered owner or the word "or" is between the names of two registered owners.
If the word "and" or the symbol "/" is between the names of two registered owners, both must be present.
If a titleholder is deceased, you will have to transfer the Title into your name before Orange Coast Chrysler/Jeep/Dodge can buy your car. This can usually be done by taking the Title and supporting papers to the DMV office. 
If you are selling a vehicle on behalf of a company, please see a Business Office Associate for the requirements needed.
2. Valid and Current California Registration
A valid and current car registration is proof that you own the car. Orange Coast Chrysler/Jeep/Dodge must see the vehicle's current registration documentation to verify that you own the vehicle.
3. Photo ID
All Registered Owners should bring valid state-issued photo IDs to prove identity.
4. Owner's Manual
Make life a little easier on the next car owner by leaving your owner's manual in the glove box before selling your car.
5. Keys and Remote
Keys can be expensive to replace. If you do not have the original keys and remote, Orange Coast Chrysler/Jeep/Dodge may adjust the offer.
Transaction details
   1. In order for Orange Coast to purchase your car, you must have all of the documents required by law to transfer ownership to Orange Coast Chrysler/Jeep/Dodge.  Should you not possess these documents or if additional research is necessary to confirm your car's history, Orange Coast reserves the right to cancel the Offer, postpone the purchase until all requirements are met or revise the Offer.
   2. Orange Coast issues a company check when purchasing a car from a customer.  Banks typically place a hold on checks of up to 10 banking days.  Customers are encouraged to verify their bank's hold policy. 
   3. Any negative equity will need to be paid to Orange Coast in the form of a cashier's check, certified funds, or cash, unless the amount of negative equity can be included in the amount you are financing to purchase another car from Orange Coast. A credit card can be used to pay negative equity under $500.
Additional information
   1. Your written offer is based on your car and on any equipment that is installed or that is part of the car (e.g. stereos, alarms, Wheels, Tires, Floor Mats, Extra Key, etc.). If you remove any of this equipment, your appraisal could be voided.
   2. The written offer for your vehicle will not change for 7 days or 150 miles.  After 7 days or 150 miles, your vehicle will need to be reappraised and your offer may change. Our written offer assumes that the condition of the vehicle does not change, that Orange Coast may obtain a clear title, and that there are no undisclosed conditions affecting the vehicle.